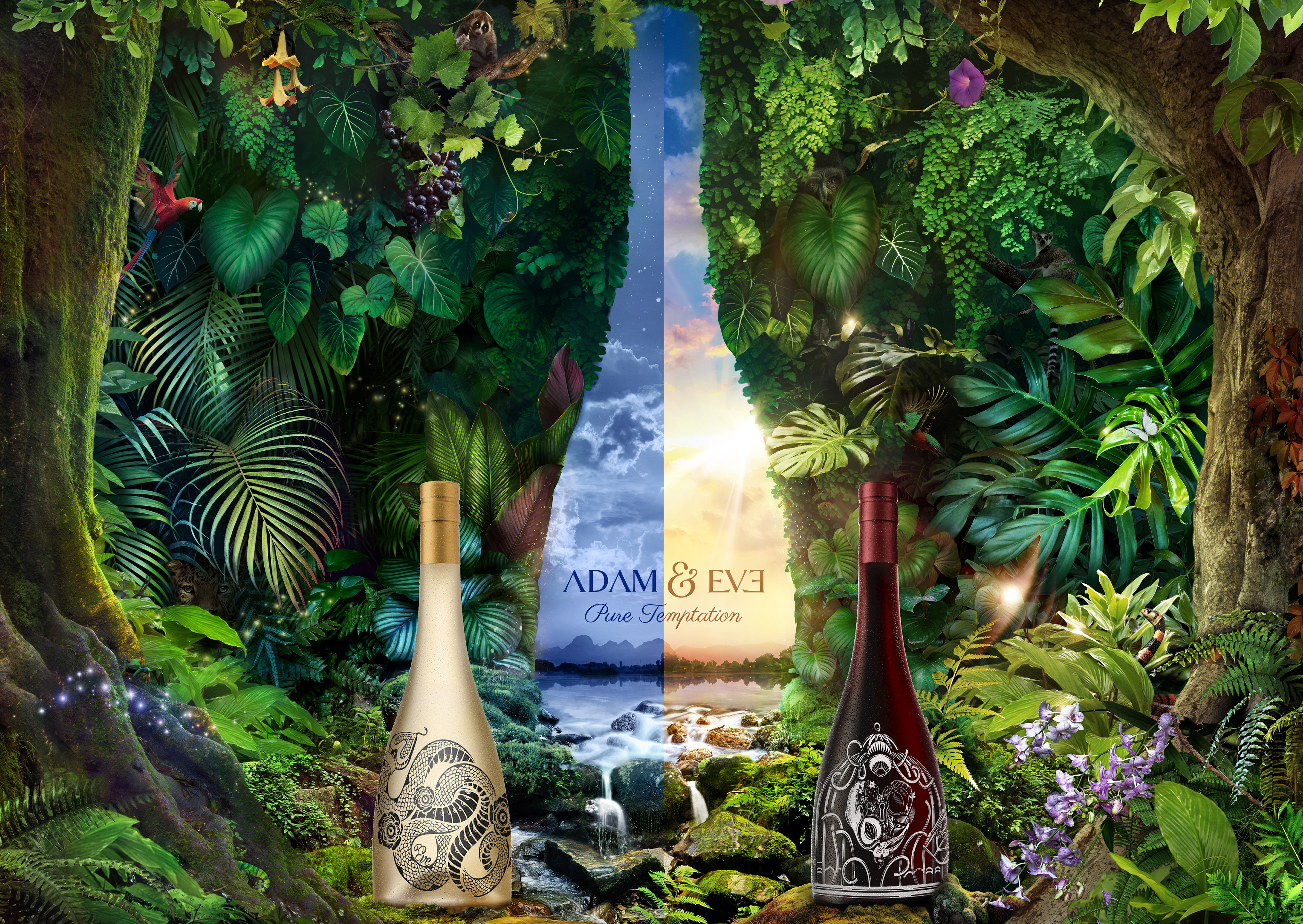 Adam & Eve - 2019 Limited Edition Merlot Gift Pack:
At Vergenoegd Löw vineyards we have our very own garden of Eden – an enchanted place where you will find red merlot grapes kissed by sun and dew.
Our master winemaker has transformed these grapes into two seductively delicious, Limited Edition merlot wines, Adam & Eve. Just as Adam's rib formed Eve's body, the flesh of the red Merlot grape creates the white Merlot.
Light and dark, him and her, tropical fruit and irresistible red berries are brought to life as two sides of the same story… A 'Tale of Temptation'.
Loerie Award: 2 x Finalist - Packaging Design & Craft illustration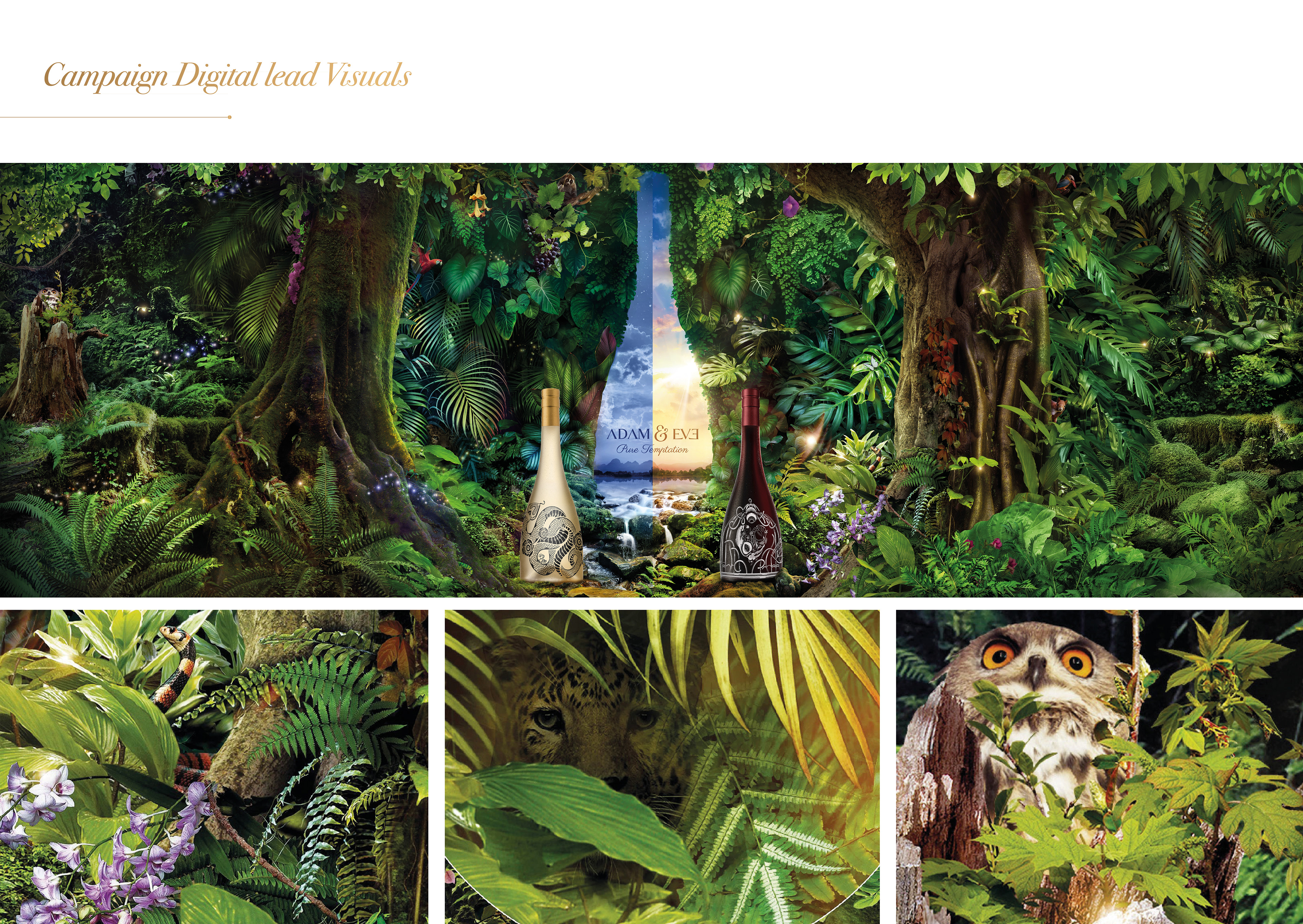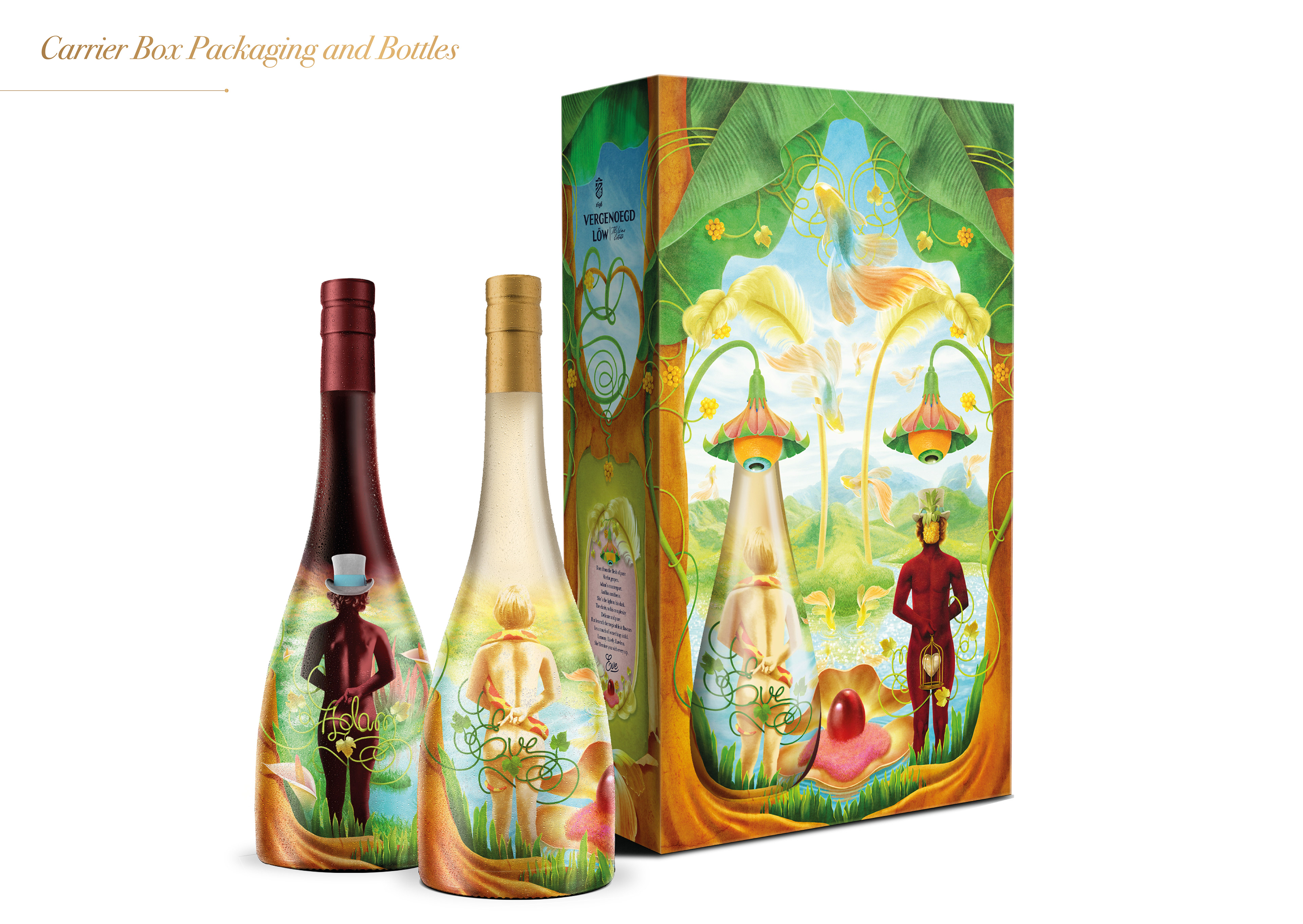 Born for the earth, from the first harvest of the season.
The original. The archetype. But do not let his traditional form fool you.
There is a hint of darkness below the surface. A captivating complexity. Breath-taking.
Bold. Bursting with the flavours of soft juicy plums and ripe red berries.
Made from pure Merlot grapes, far more alluring than any forbidden fruit.
Born from the flesh of pure Merlot grapes.
Adam's counterpart. And his antithesis.
She is the light to his dark.
The clarity to his complexity.
Delicate and pure.
But beneath the tropical fruit flavours
lies a touch of something sinful.
Lemony. Lively. Lawless.
She will entice you with every sip.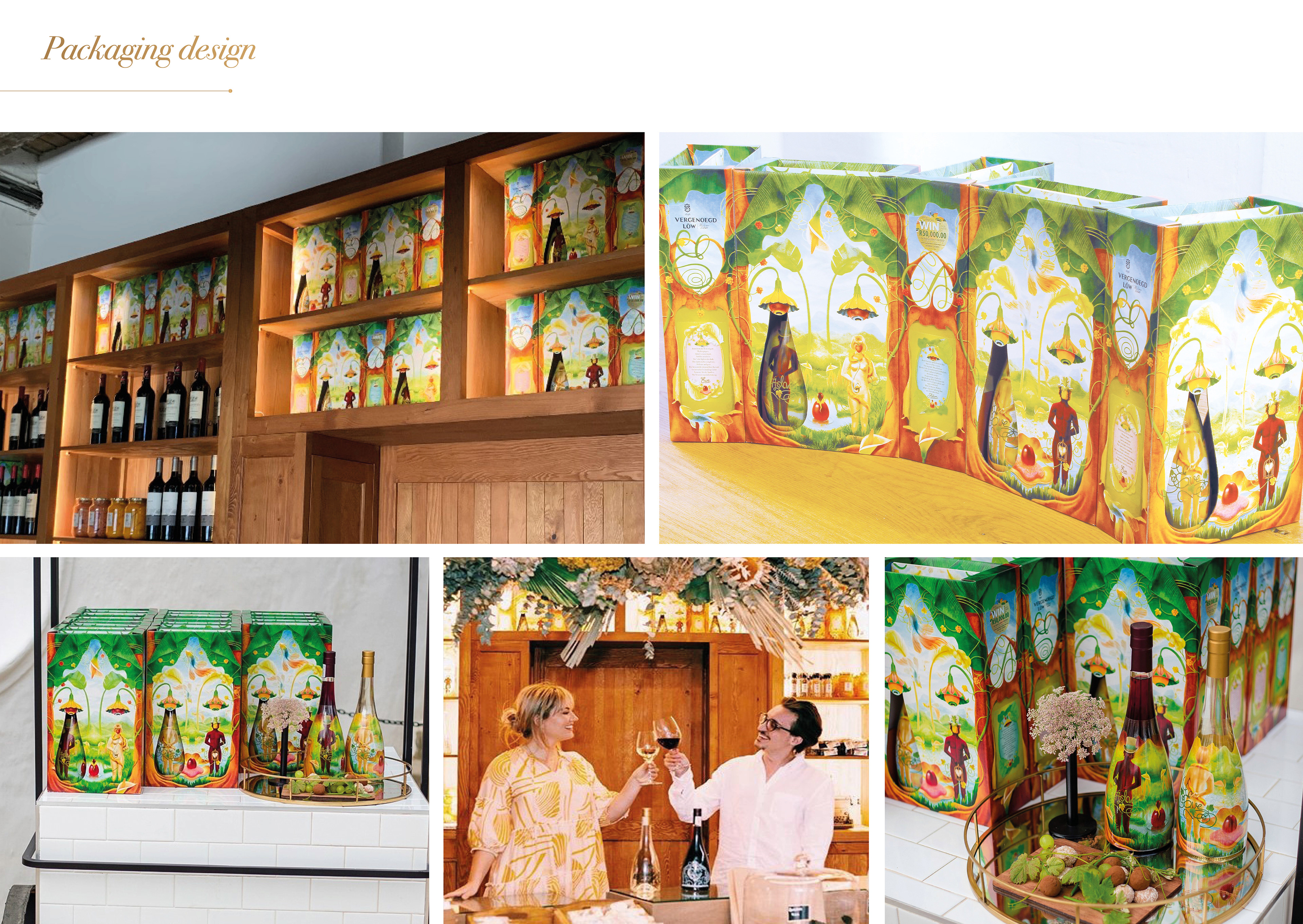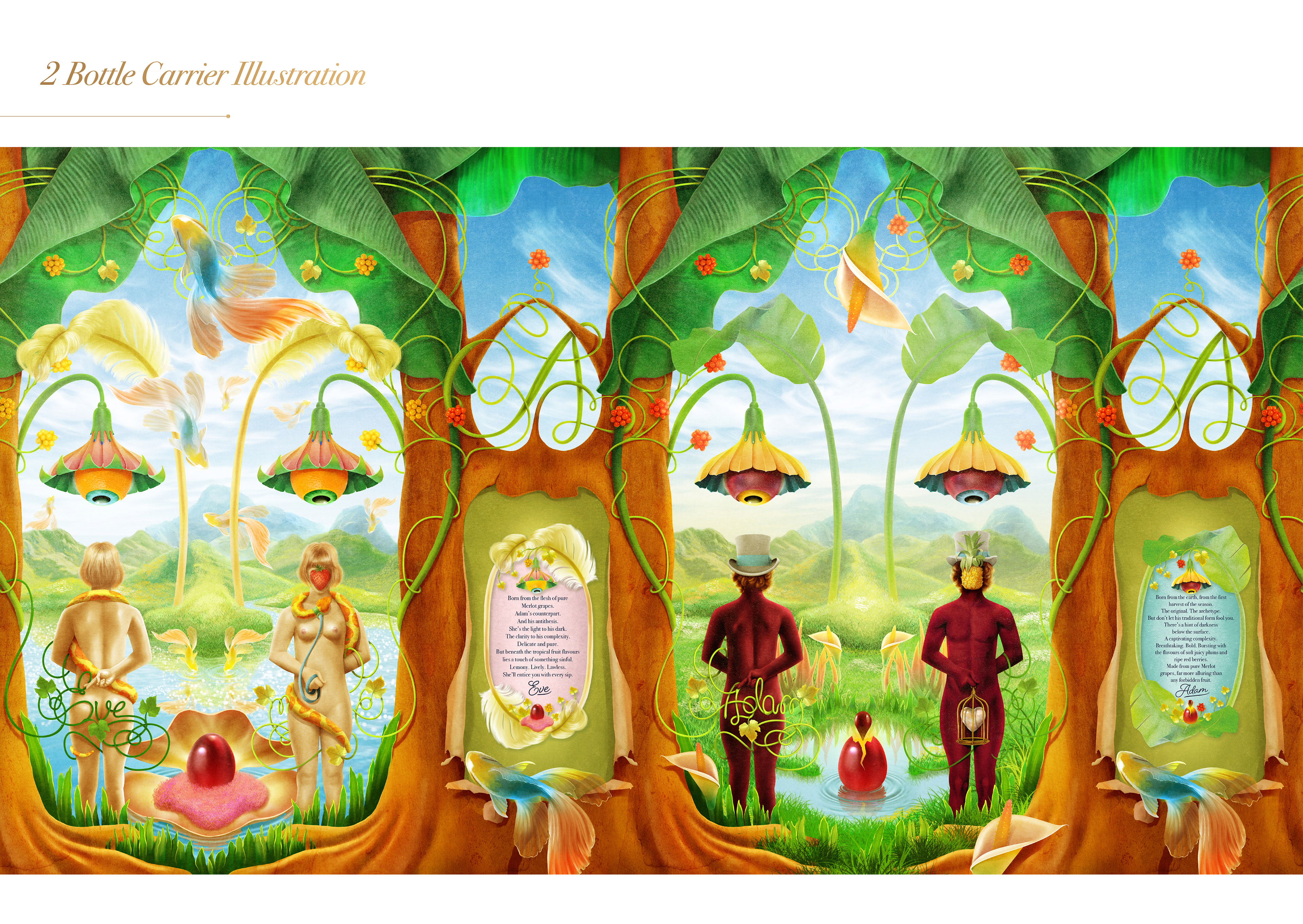 Adam and Eve both live in an idyllic, surrealist Garden of Eden; two-bottle carrier, each of them revealing their very own story of temptation.
The distinctive tasting notes of each wine and unusual, albeit slightly suggestive and unconventional representation, add to both Adam and Eve's version of their story. If you take a step back, you may even notice the hidden observer watching over them…eluding that there are 3 sides to the story: his, hers and then the truth.
Look closely and you will see both of the pair's crossed fingers, which allude to their secrets they are holding. The couple becomes aware of their own nudity and sin when you remove their perforated sleeves. And in their naked form their truths lay bare. Eve reveals the infamous snake holding the key to Adam's heart and Adam a broken cage with Eve's untamed heart escaping.