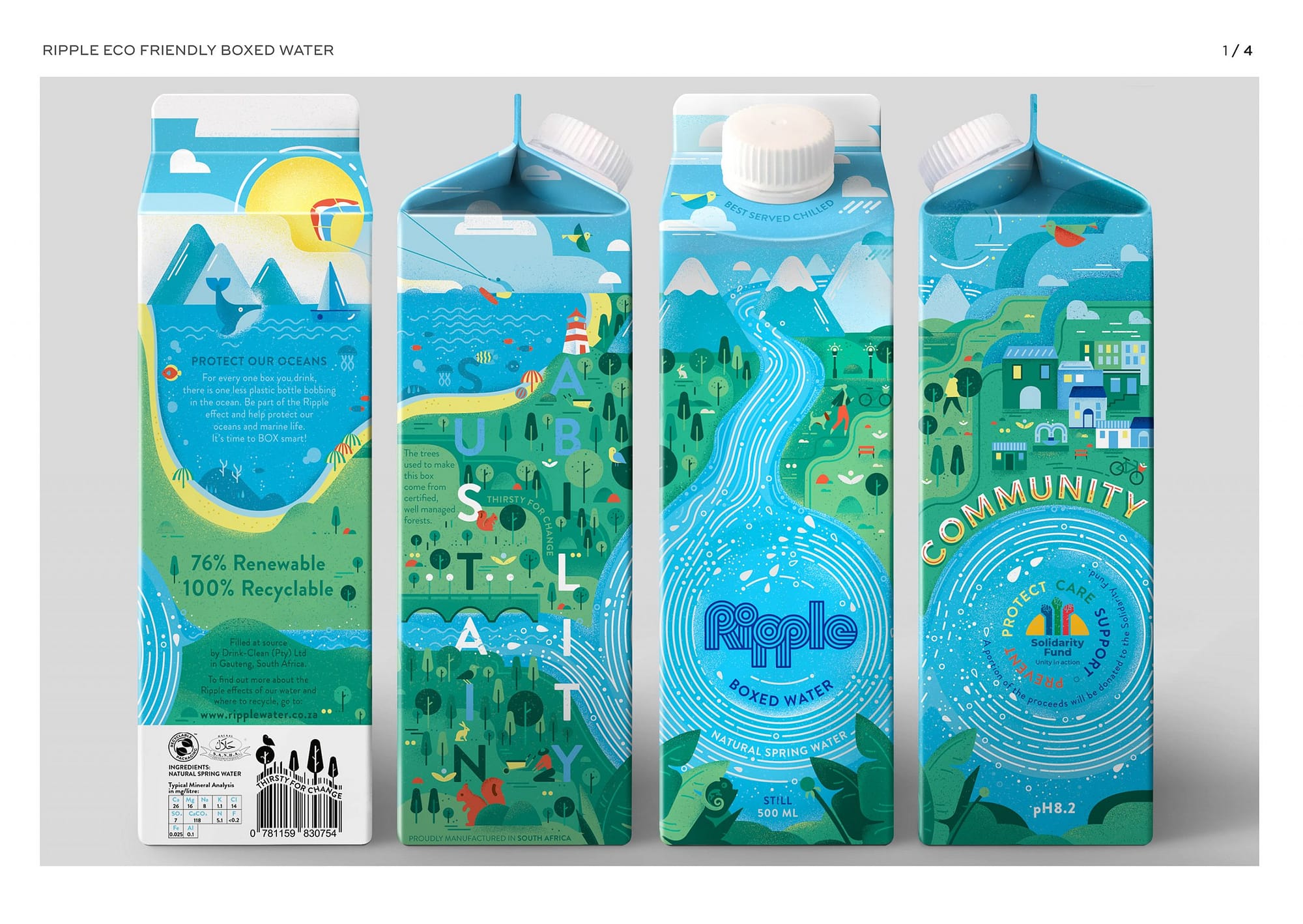 Ripple – Thirsty for change – Sustainable Eco- water packaging:
Ever wonder about the consequences of a single action?
We do. All. The. Time.
One drop in the ocean has the potential to cause a far-reaching ripple effect. Similarly, what you do today can trigger change for years to come.
Loerie Award: Finalist – Packaging Design​​​​​​​
There are almost 70 billion plastic bottles produced every single year, at a great expense to our oceans. Ripple wanted to actively be part of the solution, so with the launch of their Ripple eco-boxed water, they wanted to help spread the message about the damages caused by plastic and how a simple act like drinking from an eco-box instead of single- use plastic, can make a massive difference.
To communicate this message we crafted an infinity Ripple logo, consisting of a sideways figure-eight, which is supported with our vector illustration that wraps around the box, to inspire our message of sustainability and to visually portray the recyclable story of Ripple.
The water is pure and delicious, packaged at a healthy, renewable source at Friesland Estate in Potchefstroom. This Eco-warrior packaging is made from renewable resources making it 100% recyclable and biodegradable. In fact, the packaging is made from well-managed forests, where for every three trees that are felled to manufacture the boxes, we plant four in their place.
As each box stands on shelf alongside one another, rotated clockwise- you can experience the ecosystem of the Ripple story. The illustrations use of colour and style takes you from the source of the water, down through to the forests that are replanted to make each box. It educates us on how we can help protect our oceans and takes us through to the community of Ripple, bringing the concept to life that if you are thirsty for change, you can be part of the 'Ripple effect' and be part of the solution.