THINK THAI FOR A CHANGE:
In South Africa, Thai cuisine is relatively new, and not considered as an option when eating out. We were briefed by Simply Asia to attract new customers through new channels and create awareness for Thai food as a category. We decided to replace popular fast foods such as pizza and burgers with Thai food. Our concept was simple "Think Thai for a change. Think Simply Asia." which we developed into an integrated campaign with national rollout.
AWARD: Bronze Bookmark Award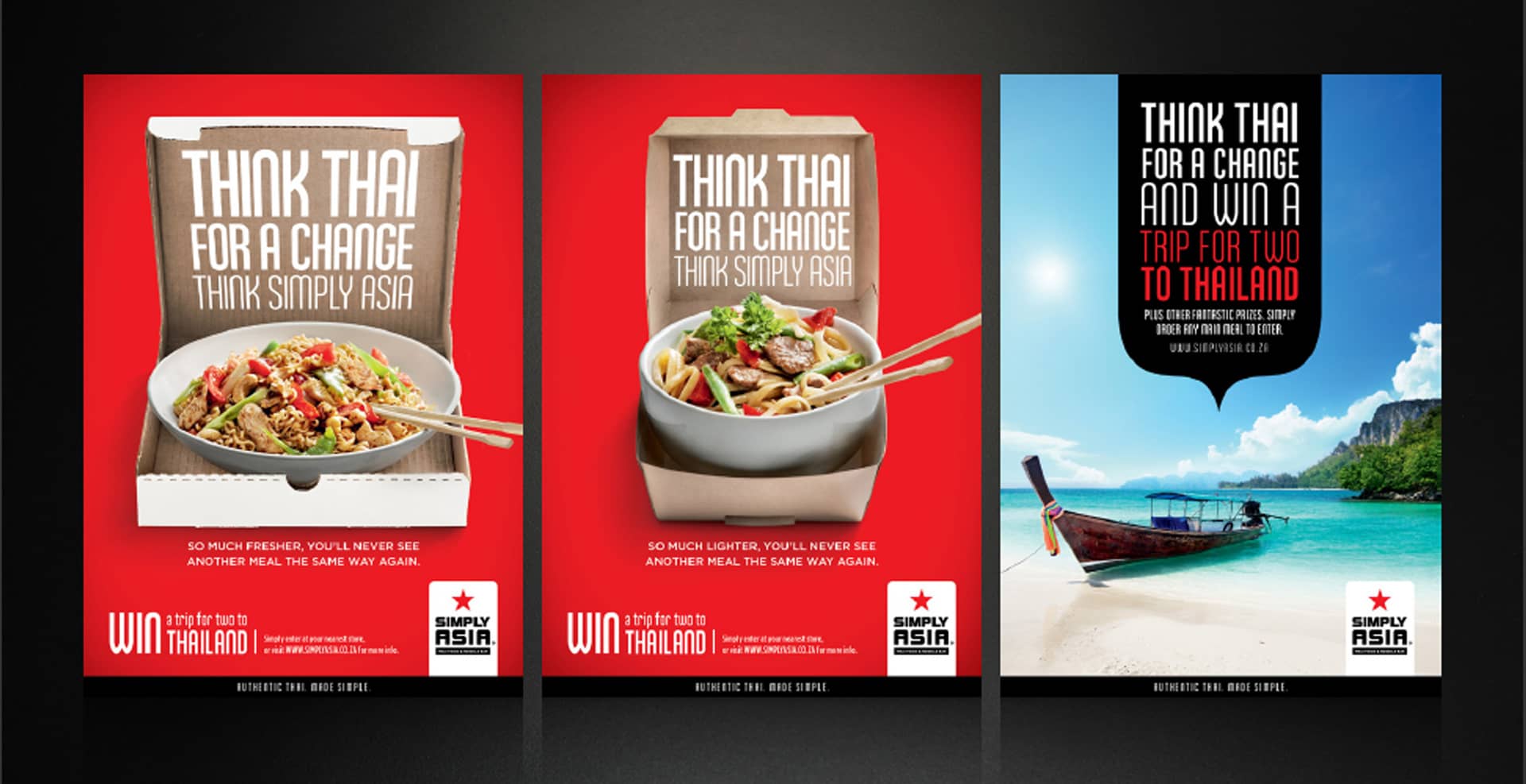 In store collateral such as placemats & posters, communicated customers could win a trip to Thailand.
A targeted press campaign was rolled out nationally.
45 000 branded chopsticks were inserted into Women's Health Magazine.
Guerrilla tactics: Branded chopsticks were delivered with ALL Mr Delivery orders. Pizzas and burgers arrived with chopsticks encased in "Think Thai" packaging, to remind consumers to consider Simply Asia next time.
THE DIGITAL STRATEGY:
We redesigned and launched a fully responsive website.
Pay Per Click advertising: made use of Google display networks and targeted AdWords.
Blogger strategy: We challenged 4 bloggers to #Think Thai.
# THINK THAI BLOGGER STRATEGY:
With a trip to Thailand was up for grabs, bloggers were asked to #ThinkThai. Bloggers threw parties, did radio shows and blogged their hearts out. Before long #ThinkThai was trending and Simply Asia's online presence was growing.
The campaign was awarded Bronze Pixel at The Bookmark Awards for innovative online approach and effectiveness in the category. The campaign also helped Simply Asia achieve 9.5% year-on-year growth and a social media reach of 2 322 994.