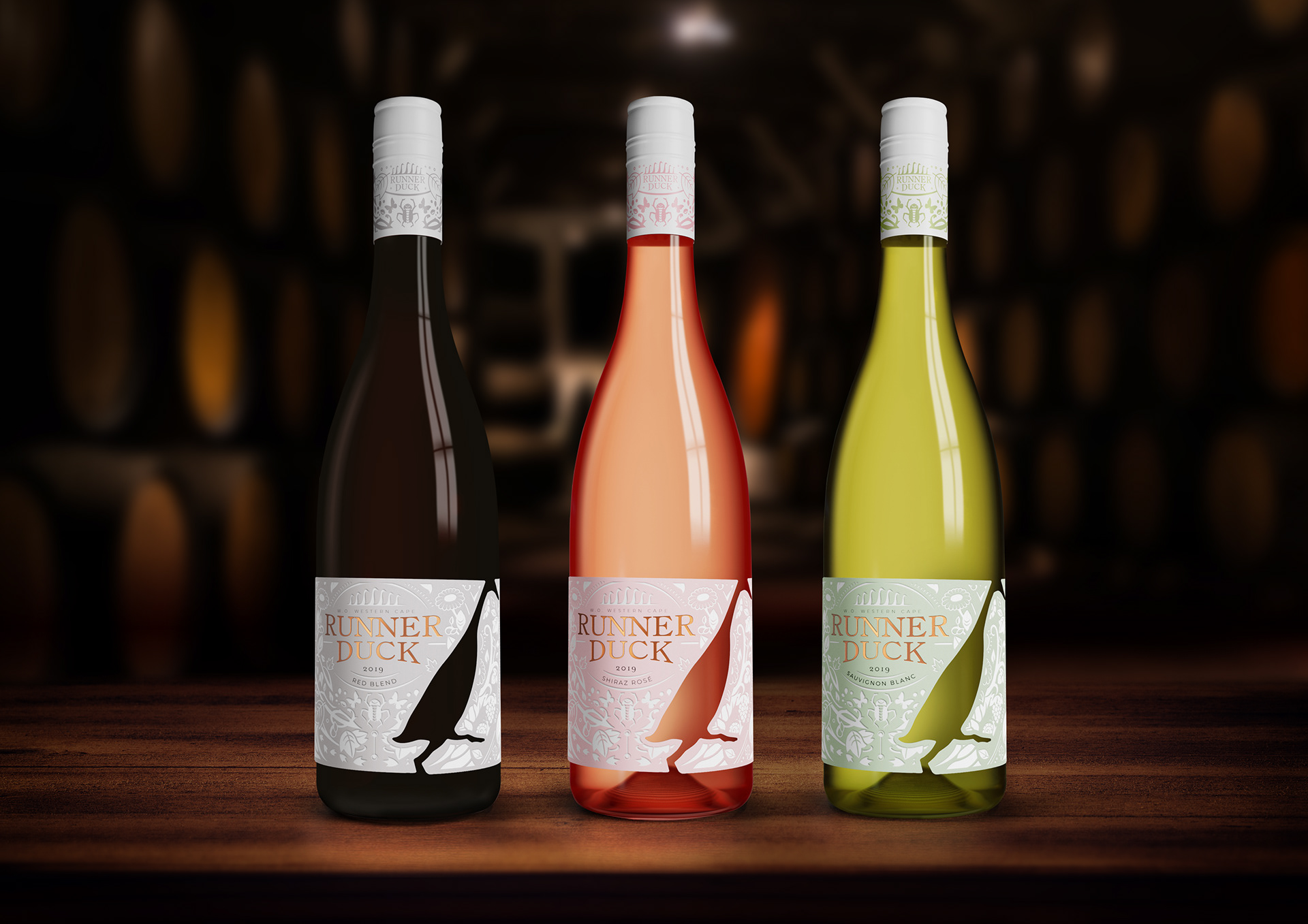 This is a delightful story.About sustainability. A dream of doing things differently. And ducks. 
At Vergenoegd Löw, we've always been dedicated to great wine, innovation and environmentally friendly practices. So, when it came to protecting the precious vineyards from pests, we asked: Is there a better way in which we can protect the delicate ecosystem? Today, an enthusiastic flock of over 1600 Indian Runner Ducks forage in the vineyards, happily dining on snails and keeping the terroir pest free, naturally. Red, white or rosé – there's a story in every sip.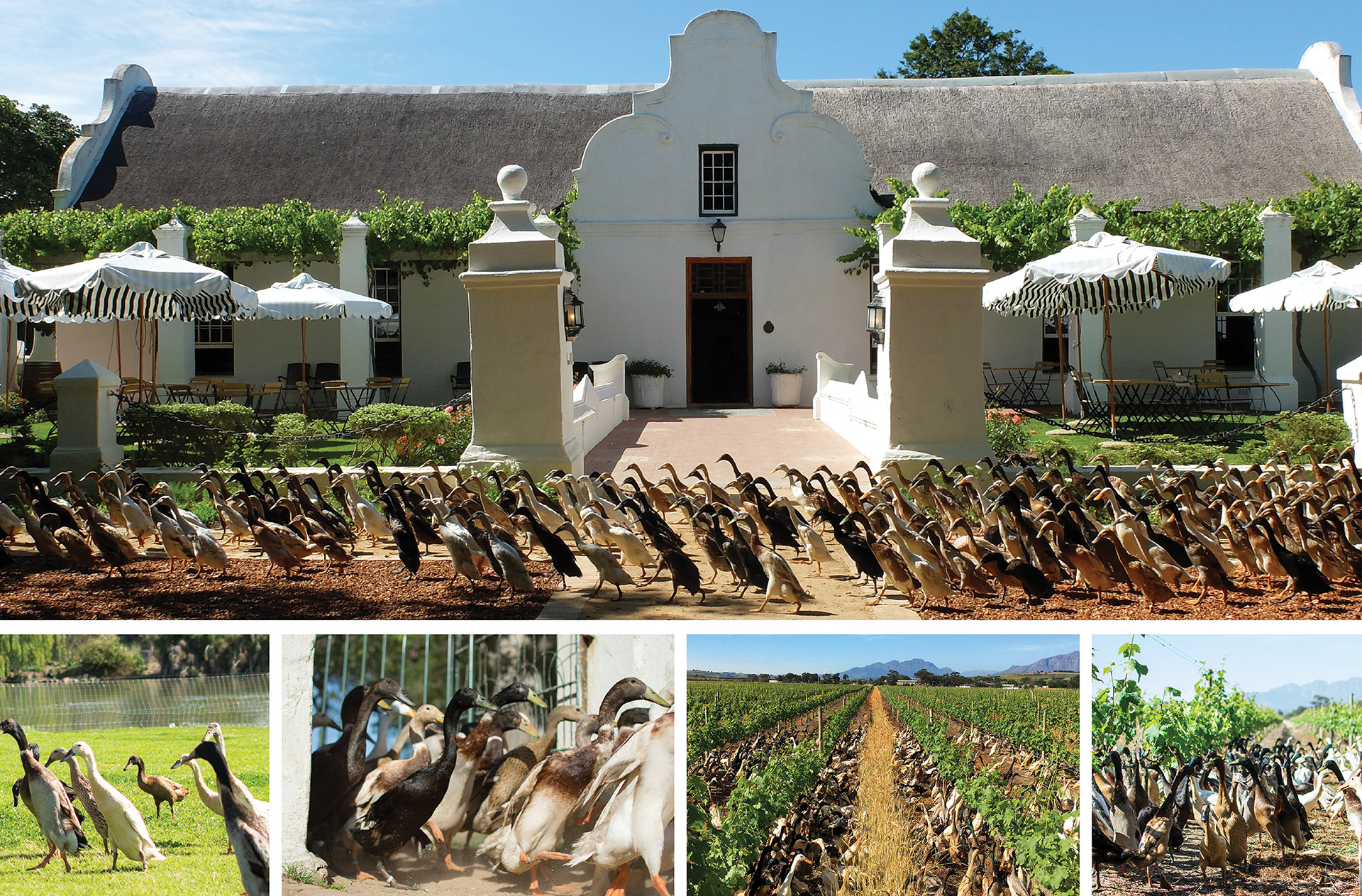 The challenge

- to bring this unique sustainable story to life and create a label that would stand out on the shelf and appeal to consumers. 
We strategically designed an innovative wraparound label by shaping the outer edges of the label so that when wrapped around the bottle, the negative space between either end resembles the unique shape of a Runner Duck. The negative space allows for the vibrant colour of the wine to shine through and become part of the label.
The result

-  a distinctive and unique bottle that highlights the vital role the Runner Ducks play in the sustainable production of the wine, producing an eco-friendly wine label printed with sustainable printing processes only using vegtable inks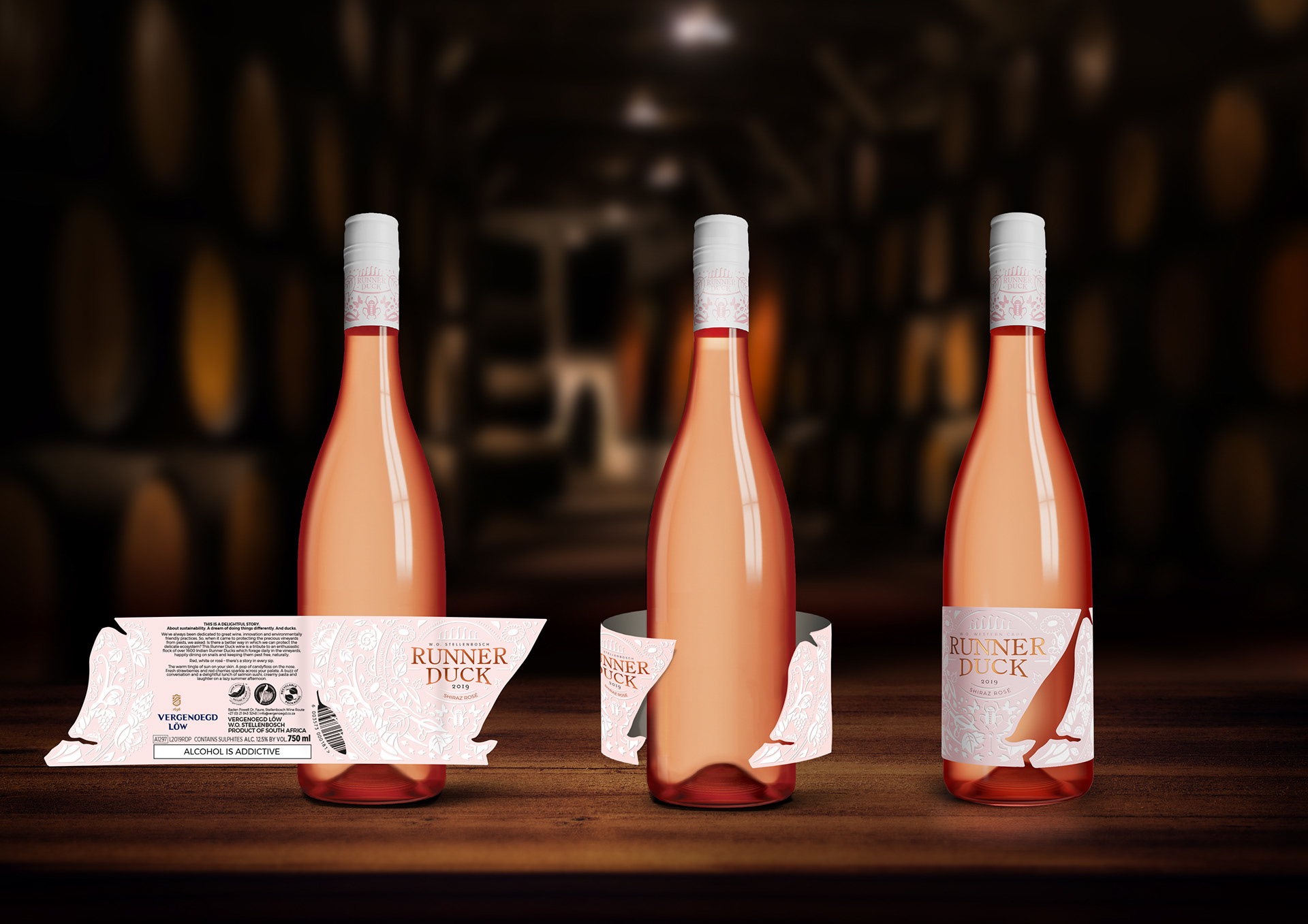 The design pays homage to their iconic Runner ducks in the form of a full wrap around label that heroes the unique Runner Duck shape in the negative space, bringing the varietal liquid colour as part of the label design. The illustration includes fynbos, vines, grapes, snails and other creatures. The combination of these elements creates a cyclical motion, emphasizing how these element affects and maintains the delicate balance in their biome.
The subtle debossed background illustration and muted use of soy-based inks, FSC certified paper and minimal foiling on the label reinforcing our environmentally conscious principals by leaving as little a footprint as possible.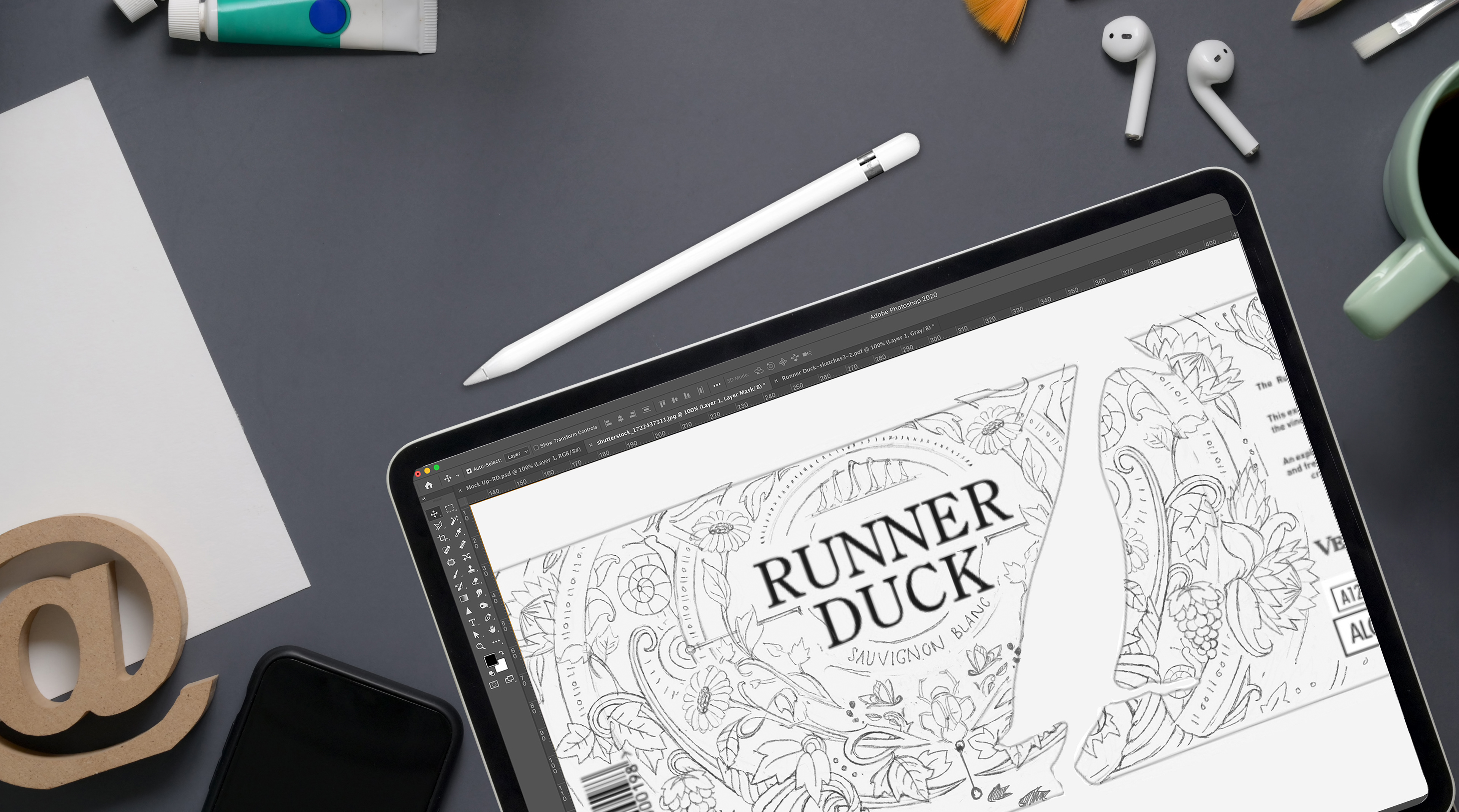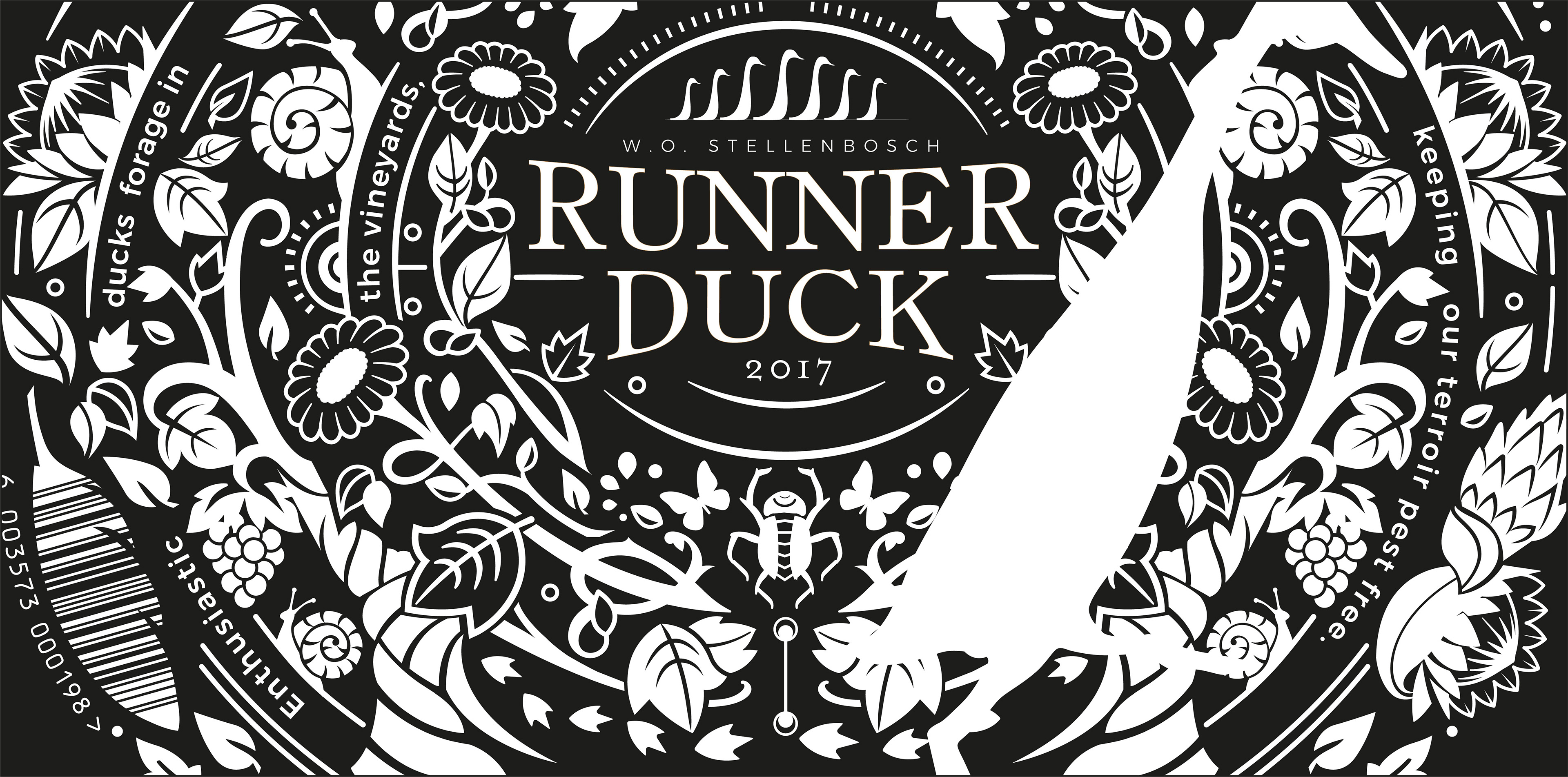 The gentleman duck. Not only is he the resident's wine connoisseur and an eco-warrior but loves spending his days running through the vineyards and ridding the farm of those pesky bugs.

The tasting notes for each varietal were meticulously illustrated in a heart-like shape to emphasise the passion and craftsmanship that goes into the making of each wine. Upon closer look there are beautifully illustrated creatures in and amongst the foliage and fruits. This ties back to one of Vergenoegd Löw The Wine Estate's core principles, namely sustainability and organic farming practices.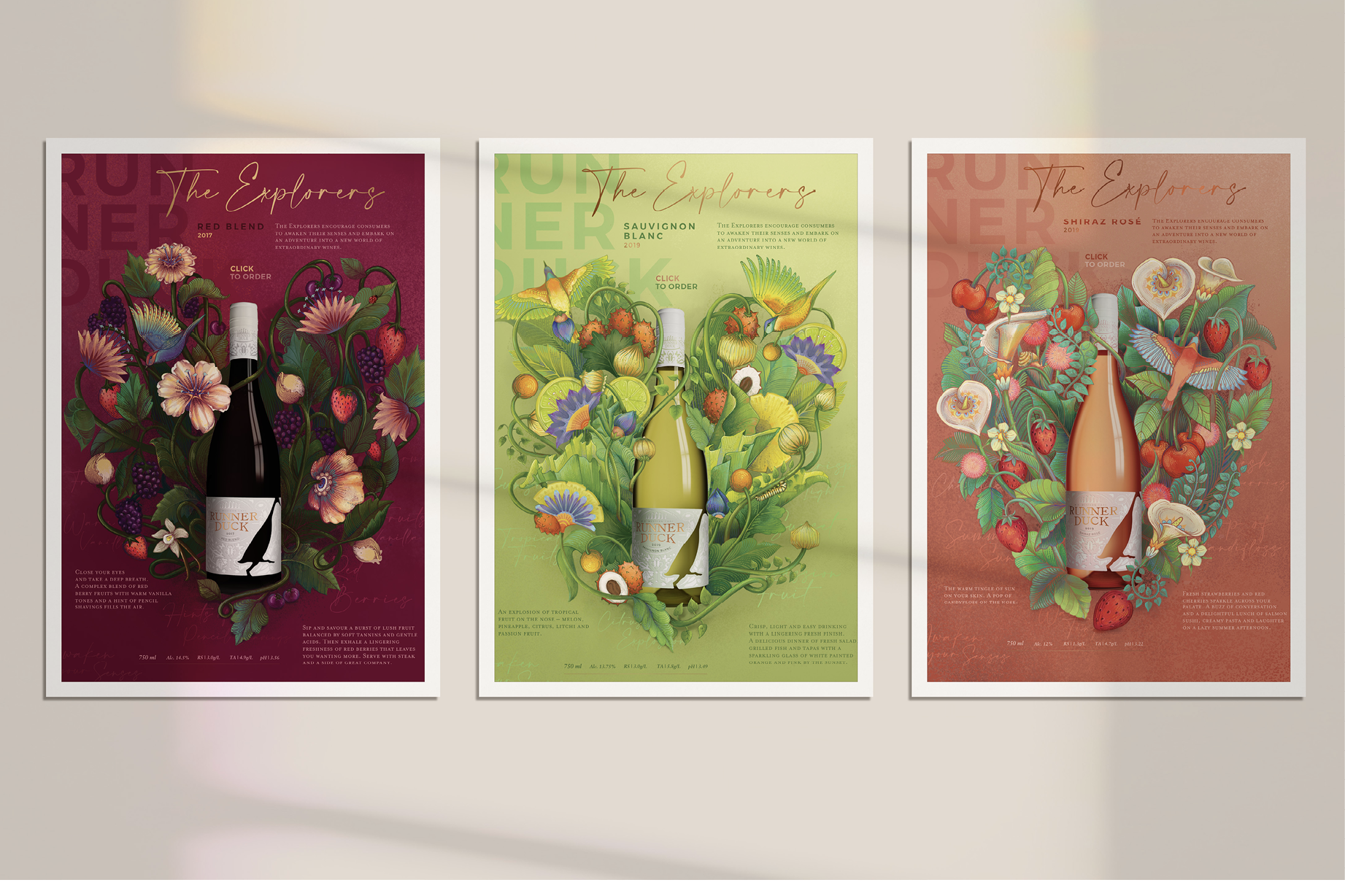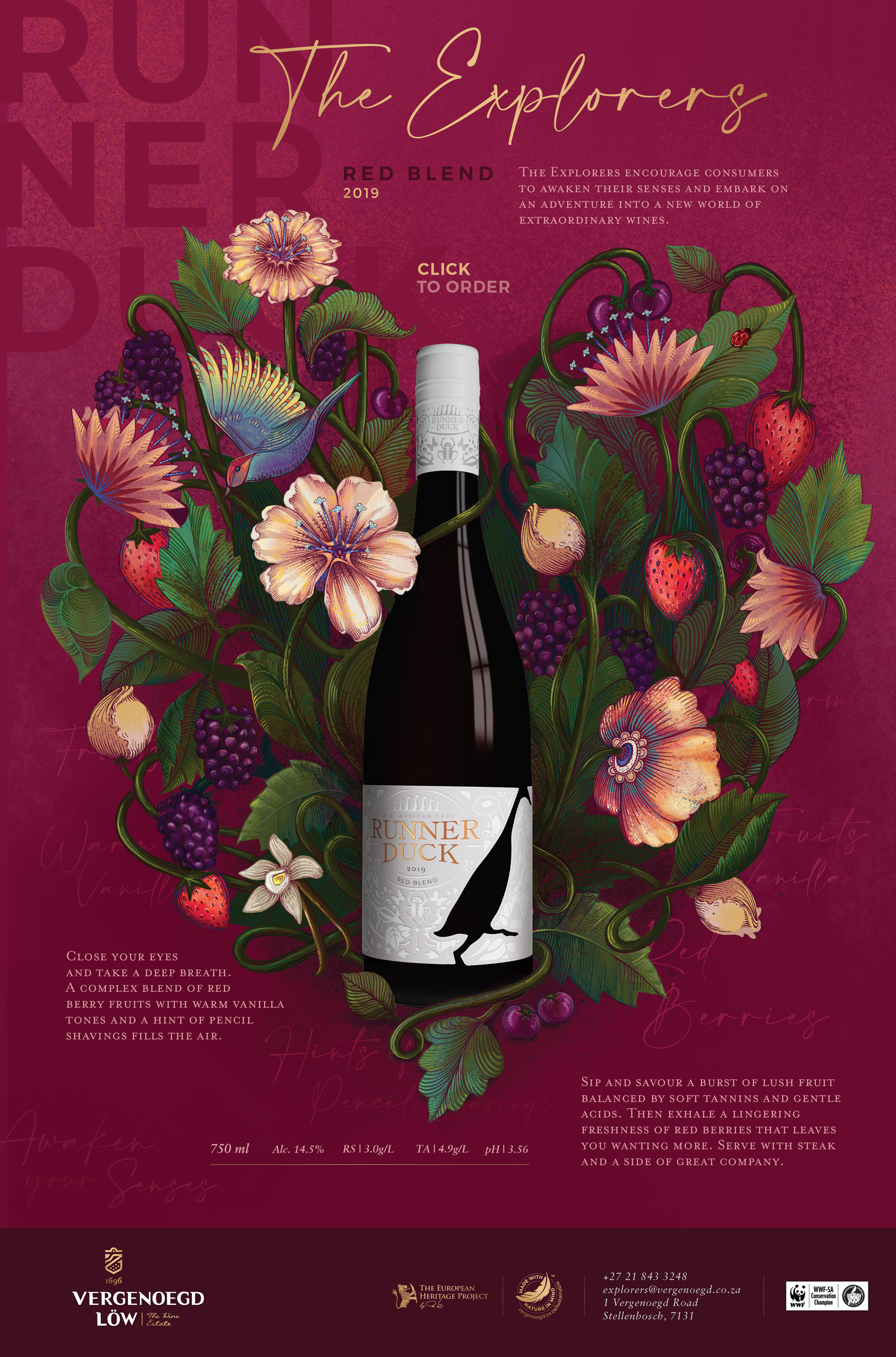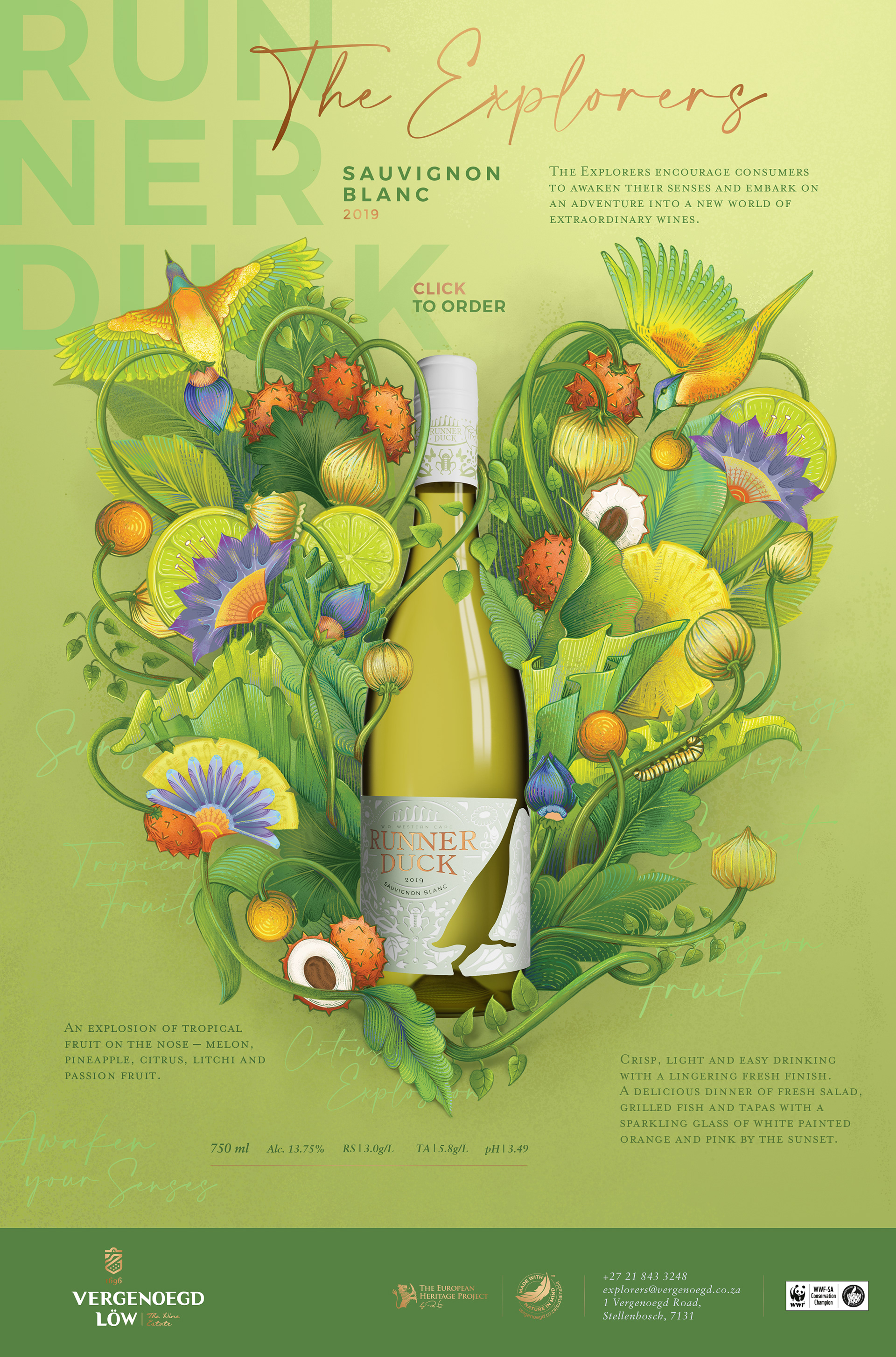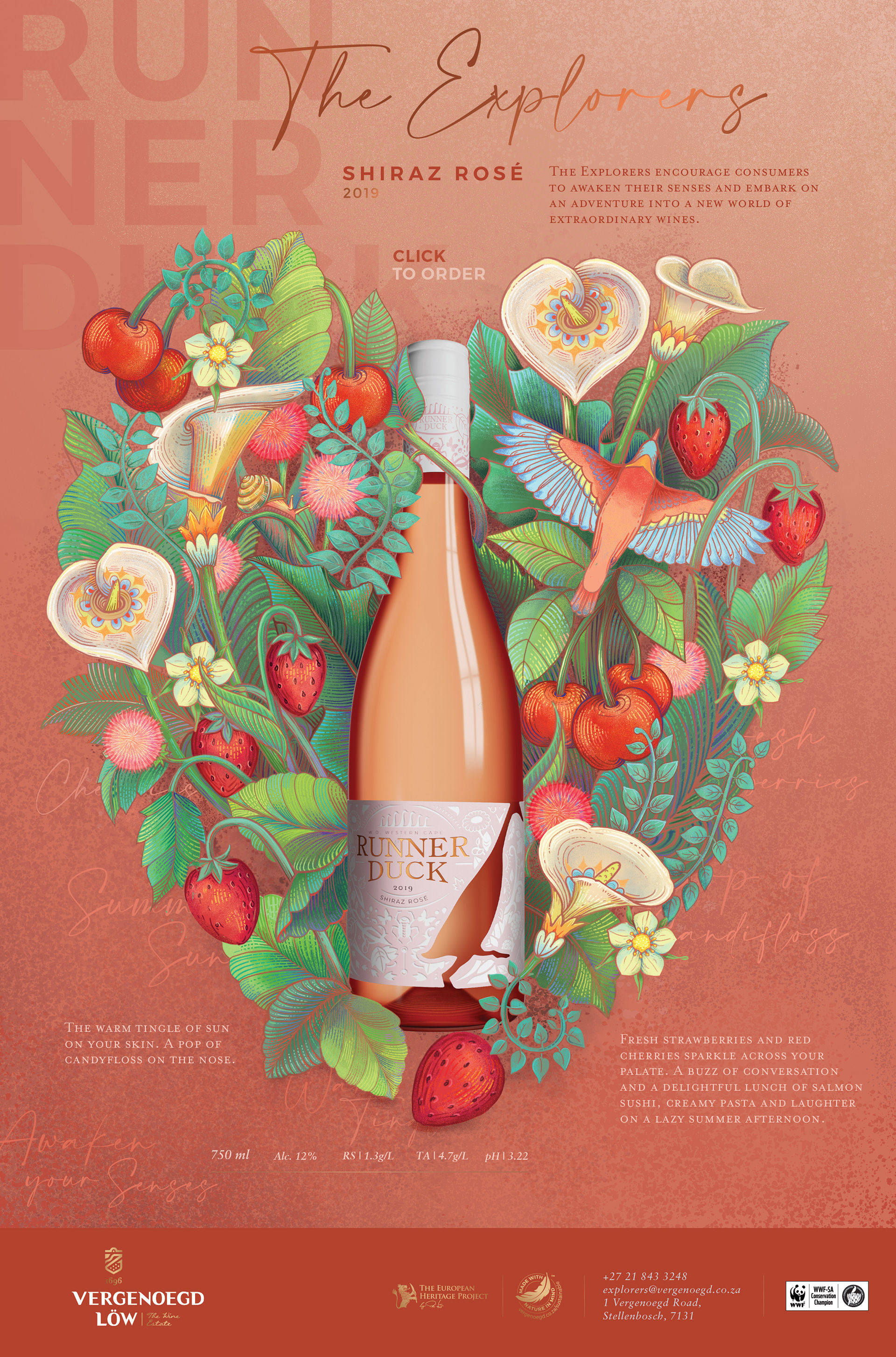 To further show The Wine Estate's commitment to sustainability, quality and craftsmanship, we created an illustration that wraps around the entire box, echoing the idea that everything in nature is cyclical.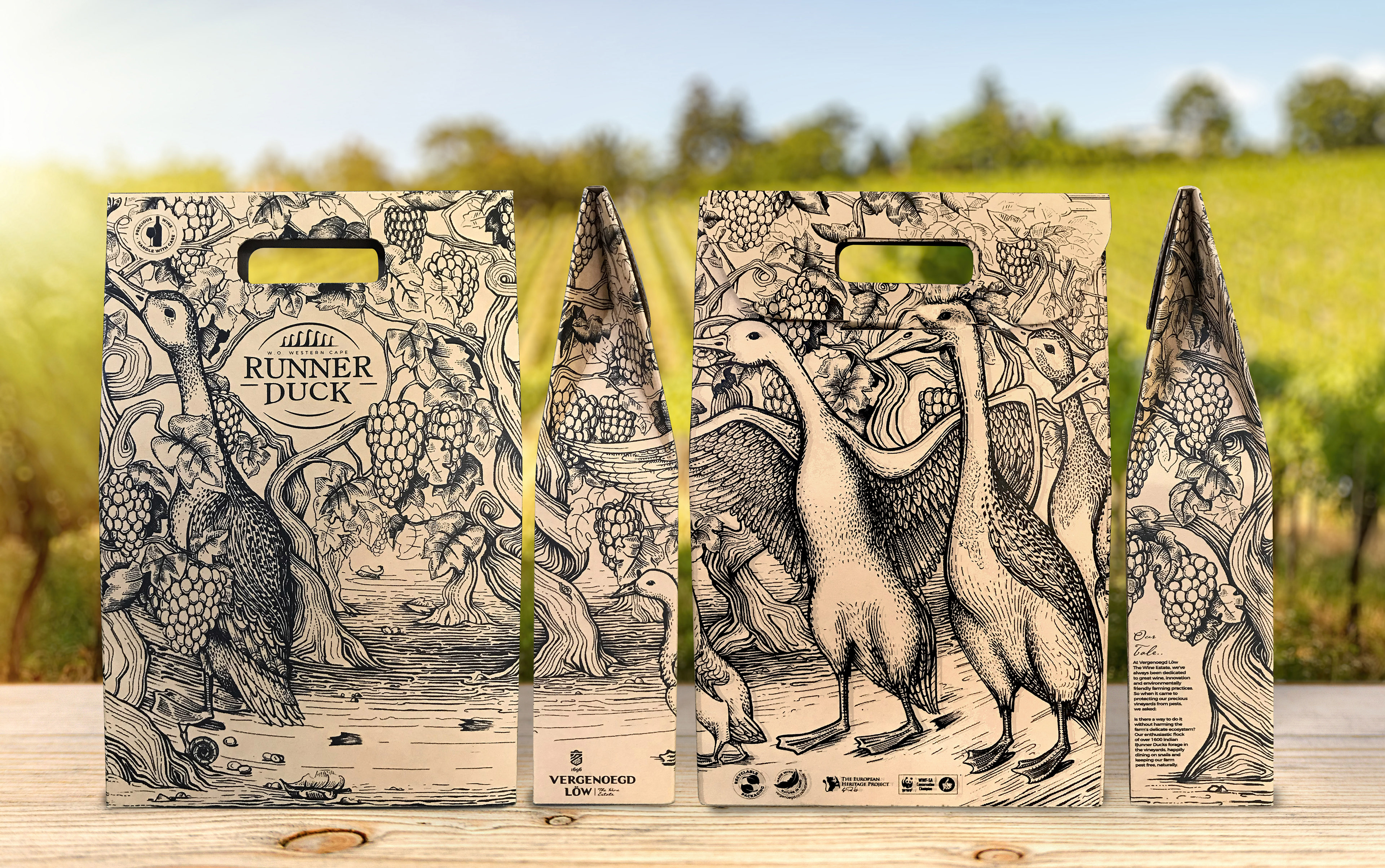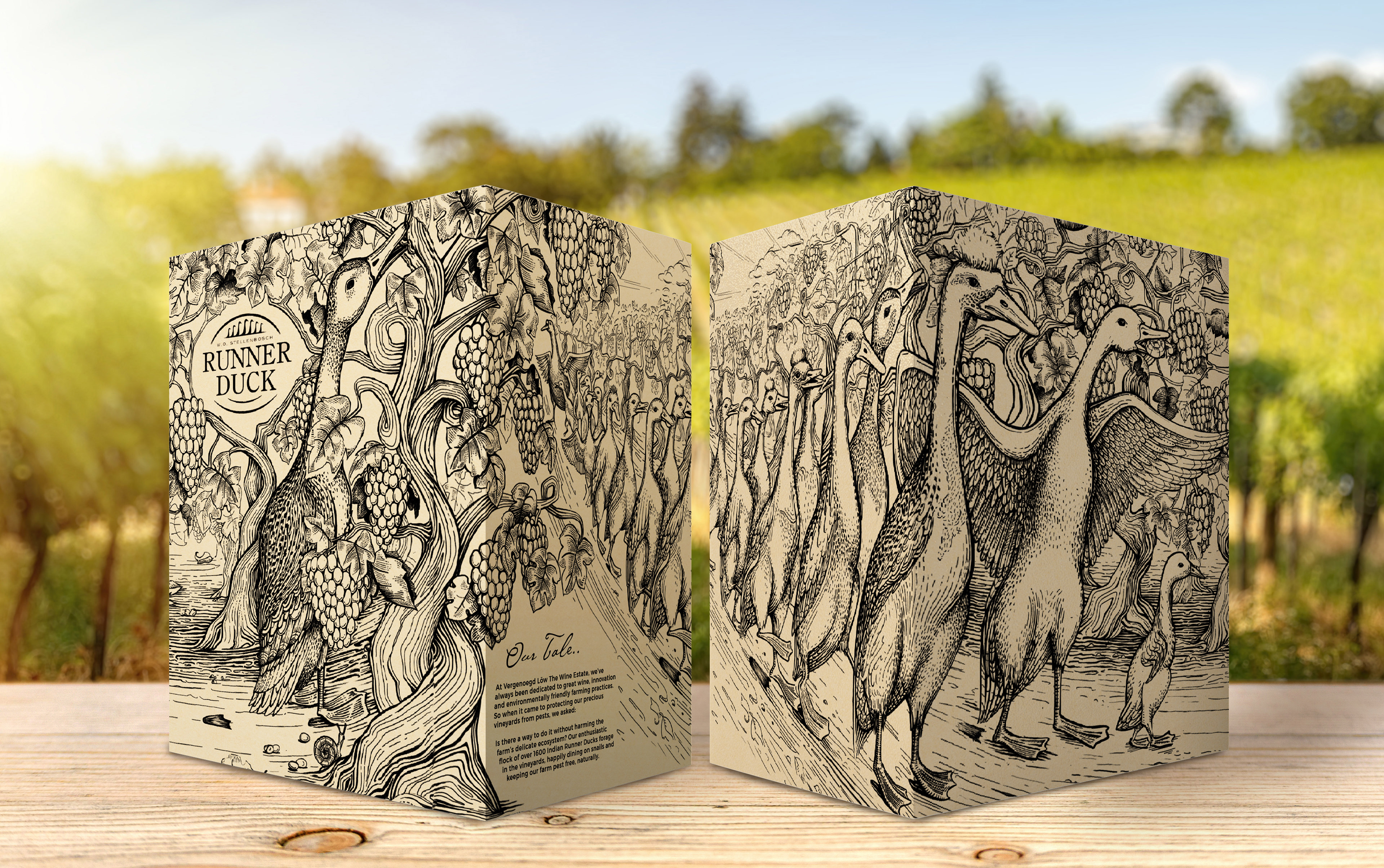 Loerie Award: Finalist - Packaging Design